This article was written for those in industries where events play a keen part in your community engagement or where distribution of content requires a virtual or online platform. Those in marketing departments, Event Directors, Operations Directors, Event Planners and all those other heroes who focus on delivering engaging events around the world.

An Introduction to Showcase
Showcase produces global events that look to the future. With a proven track record in the events industry for nearly a decade and a tier-one client roster, we certainly know what we're doing. Our internationally recognised industry-standard certifications and awards also back us up.
We like to ask questions, listen carefully, give feedback and challenge the status quo – we're not 'yes' people, we are experts in our field. We understand that the best results come from tight-knit collaboration and open communication.
OUR DNA
Whether we're creating In-person, hybrid events or virtual events for you, creativity is at the core of everything we do; from the initial design concepts to the finished product via our own proprietary technology. Our imaginations constantly work overtime to ensure we push the boundaries with budgets and creativity when the opportunity arises.
Revenue & ROI
COVID has changed the landscape of events forever. Many live event purists nostalgic for that in-person connection would say differently, but the fact remains, virtual events are here to stay.
The hospitality industry is often only disrupted by display technology and not by the way that events are delivered. However, like every other industry, COVID accelerated digital transformation and its impact will reverberate in the shape of more virtual and hybrid event shows. Therefore when planning a hybrid event, considering revenue and ROI is a great place to start your planning process.
Let's first establish that you cannot simply exchange live for online or hybrid. It's a completely different skill set and creates a whole new set of challenges for monetising the event. Sure, some organisations can simply carry the reduced cost of an online event vs. the cost of not producing a live event. But that isn't the case for many smaller organisations trying to adapt to this new world.
Commercial opportunities are far more limited in scope, focusing more on brand placement than the exhibition, which has proven to be a difficult proposition online. The reduced revenue of ticket sales, advertising and sponsorship caused no end of turmoil for companies across 2020 and 2021.
The first factor to consider is your platform of delivery, be that Zoom, Teams, another off-the-shelf or custom platform. Whichever you choose you will find limitations around customisation, which impedes revenue growth and experience – both directly feed into the lack of ability to sell crucial sponsorship.
In summary, revenue growth and ROI are directly tied to your successful hybrid event experience, which relies on two things, your platform and your content. All of this must come together to provide maximum opportunity for monetisation.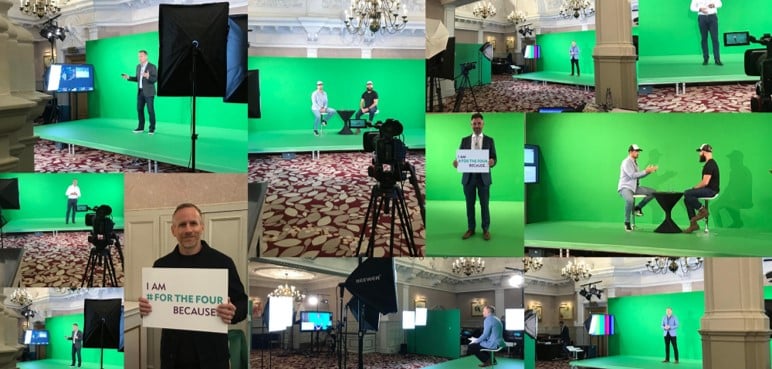 Planning your hybrid event
Venue
When hosting a hybrid event, COVID restrictions will have an impact on choice. Due to social distancing and sanitisation requirements, you need twice the space for a smaller number of people. In addition to this, space has to be designed to flow easily and simply around government guidelines. Luckily this is not a problem for your virtual attendees.
Social Distancing
As we just mentioned, social distancing at the live part of your hybrid event could be tricky. From seating arrangements, filling session halls and dispersing people, sanitisation and of course social areas including food and networking.
Audience
Managing your online audience and your live audience takes skill and virtual aspects of the events take careful planning. Each session will be delivered to both audiences and interactions, such as questions that may need to come from both.
Platform
Your hybrid events platform is the backbone of the virtual component of your hybrid event. It has to be capable of managing high-grade streaming – as well as your creative – demands. In addition to this, networking online and speaker and sponsor engagement are all required. Choose wisely.
Interactivity
The user experience of your online platform is another key aspect of your brand. Get this wrong once, and your audience is guaranteed to be smaller next time around. How you craft unique, non-standard, experiential hybrid events takes a lot of planning and hiring a good hybrid events consultant will be helpful.
Networking
Online or offline, the favourite part of the event for many is the opportunity to network, learn or do business. Often, all three.
How will you facilitate this?
What will your brand choose to do to maximise networking capabilities with a dual audience?
How do event organisers manage face to face and their virtual audience?
Data
Tracking engagement for your hybrid events will help you understand your audience and build your next event. ROI is your ultimate goal as well as a great NPS score post-event.
Apps
Apps are a great way to create long term engagement, but some brands are missing a trick. Our advice when adopting events as a strategy is not to have one app per event, but one app available all year round, enabling your community to remain involved. A great example is Saas Stock's app.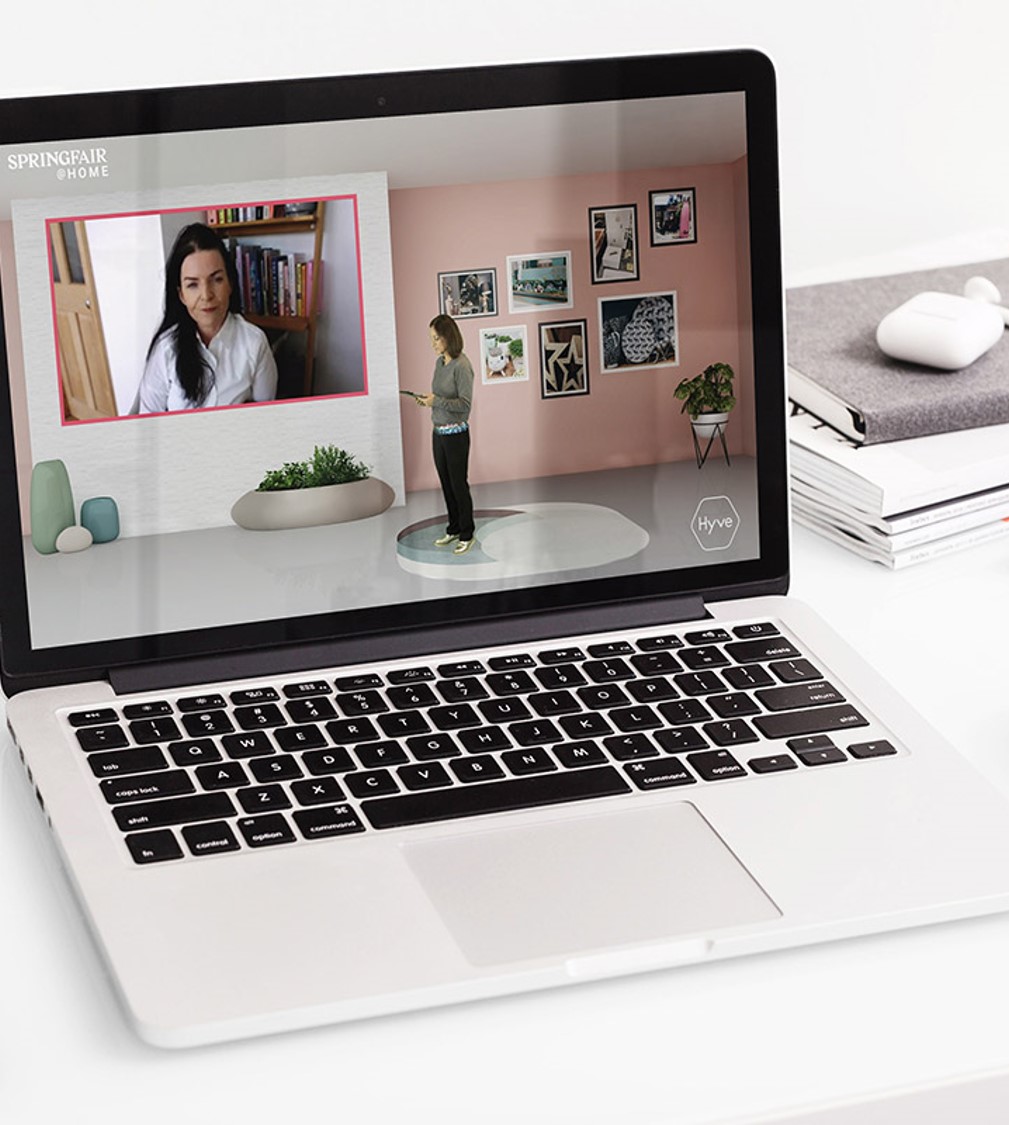 Hybrid Event Opportunities
Hybrid events provide organisations of all sizes the best way to enter the digital event space. Thinking of customers first, the ideal solution is to provide online content for those that prefer the digital experience and live elements for those preferring the in-person experience.
The addition of virtual live streaming to your event portfolio can also help build your brand as you tap into new audiences and re-engage with previous attendees who have subsequently failed to return. Post-COVID, requiring smaller venues to facilitate your hybrid events reduces costs but doesn't wholly impact business revenues.
From a commercial perspective, selling sponsorship packages could be split to live sponsorship and digital sponsorships. You could potentially develop your content into themes or streams and sell digital tickets that only allow access to a particular stream. This approach allows you to further personalise and customise the experience for your audience, and increase revenues accordingly.
Think about the engagement experience, from in-session voting, live polls, interactive questions with a two-way feed, filming live from a studio or green screen. Being creative requires not just your own imagination, but the support of a platform that can help you shape that vision and bring it to life.
Events no longer need to be a one size fits all experience, because let's face it, that approach seldom works.
Options to consider for monetisation are:
Speaker training as part of a speaker package
Interactive sessions; A private audience with…
Commercial breaks
Sponsored network breakouts. Partner with a food/coffee sponsor and provide vouchers for the same for breaks. They could even send beers/wine to digital registrants to make it truly experiential
Sell swag from a digital shop as well as at the venue
Finally, think about how you can collect and amass data. How can you set up your Hybrid event with the future in mind? Sure, your boss will want to see this event's numbers, but Hybrid events will become a strategy (see events as a strategy on page X) and knowing how to properly execute that in your business should be your ultimate goal.
The Challenges of Hybrid events
We looked at the opportunities that hybrid events can bring around revenue, experience and planning with an events-as-a-strategy mindset.
With opportunity comes challenges and we want to highlight those that we've experienced for you to consider from the outset.
Firstly, to reiterate, you cannot simply repurpose your live event playbook for hybrid events or even your virtual event playbook. This is a totally different scenario with unique requirements.
Audience
Your audience is your key play. Devising content that works for both demands is difficult from an experiential perspective. We suggest segmenting your content into easy to deliver bites that can be engaging for both audiences. Digital attention spans are shorter than those in-person, so make sure you plan accordingly.
In addition, you need to consider the content for playback at a later date; not everyone can make every digital event/session and they may want to listen in at a time better suited for them.
Session Types
Two-way Q&A could be the order of the day. If you want to make your sessions interactive for both audiences, you have to field questions from both sides. This requires a more complex platform and Zoom is likely not to cut it.
Technology
Technology is your biggest challenge. Cranking something together from Zoom and customising it will not support a more sophisticated effort. There are numerous platforms out there off-the-shelf with robust if not sometimes limited alternatives.
Showcase has developed a truly hybrid platform with live location filming, green screens and studio backdrop replicating the live event, speaker on-stage, experience. With our unique data collecting software, we can help facilitate experiences most cannot.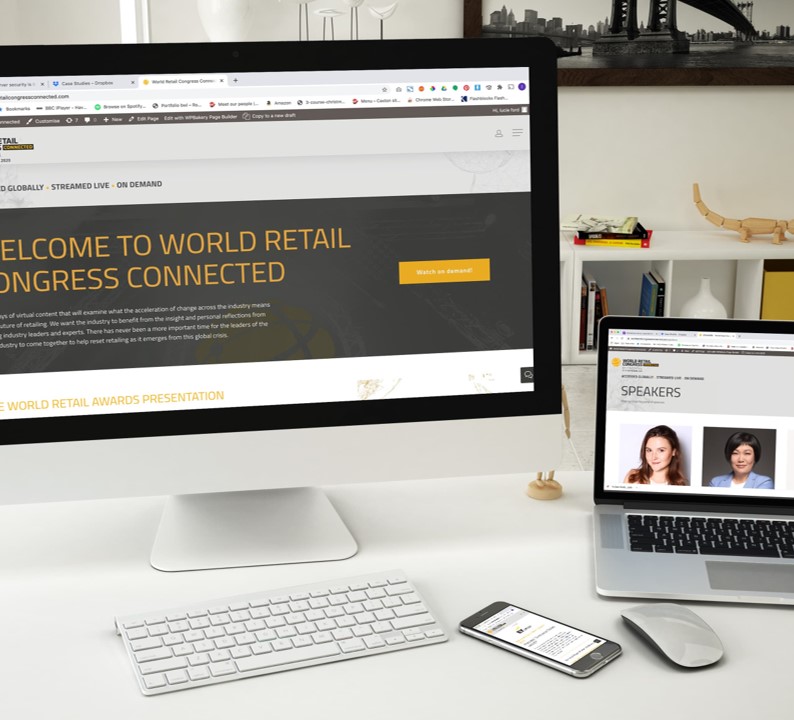 Delivering your content
Content is the core of what makes your event tick. But our job isn't to advise your content strategy. What we can do from our years of experience is to discuss how your content is delivered and what experiences you can create.
Your team/speakers
Your content and speaker logistics teams are probably already heroes used to dealing with complicated speakers, requests and diaries. Be prepared: the complications will most likely dial up a notch or 10 as they juggle recording far more content than ever before with speakers unfamiliar with your technology.
Whilst everyone has been taking meetings via Zoom for what seems like forever now, there are initial education and upskilling processes needed for your team so they can feel confident relaying this to speakers. You would be astonished at how many people still sit in front of a window or film their chins, which you want to avoid for your Hybrid event and digital content.
The success of your content firstly relies on the quality of your platform and technology, secondly is the confidence by which your team and speakers utilise it.
Your content plan
Things to consider when devising your digital or hybrid content plan:
Some formats do not translate as well digitally, e.g. panels. This isn't to say you should nix them entirely, but they must be shorter, structured with each speaker picking 2-3 max key points they want to make. Ensure the moderator takes charge of introductions so that you dive into the conversation immediately.
Shorter is better. The 40-min in-depth panel that works wonderfully at live shows tends to be less successful in a digital format.
Consider mandatory rehearsals to mitigate nerves. We've found that without other speakers or backstage staff they'd normally encounter at live events, speakers tend to be much more nervous when facing a screen and can take longer to get into the flow of conversation.
Your programme is not as flexible as with a 100% live event. If a speaker cancels last minute or you decide to change a format or session, remember that for anything being pre-recorded, you now have to consider the knock-on effect of scheduling rehearsals, tech checks, filming – then the design and production turnaround time.
Experience
Who will be hosting your digital hybrid content? Will you have an MC or talk show type format similar to Cannes TV? If you're going with an MC, what kind of person are you going for – industry expert, professional journalist, well-known personality/host, senior members of your team?
Is there a studio? What's the look and feel? Broadcast news or more morning show?
How will you bring back interactivity for your digital viewers? Polls, the ability to ask questions to speakers live, comment on content with other viewers during sessions, attend roundtables or virtual parties, speed networking are all ideas to be considered.
Don't forget the entertainment. Those attending in-person will have the benefit of networking receptions, parties, live music, etc. Be sure to give your digital viewers something as well, whether it's a cocktail masterclass or a DJ set.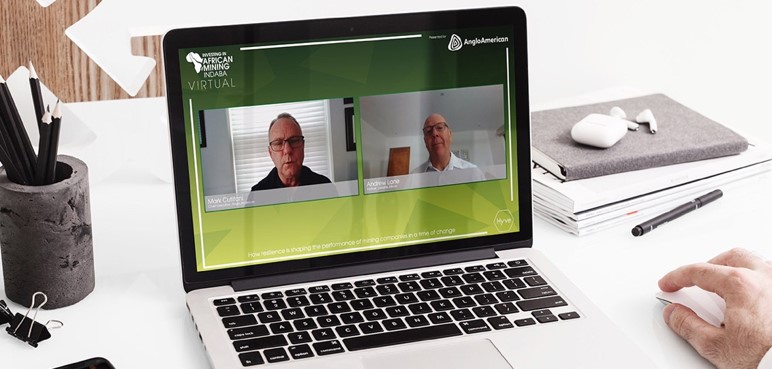 Events as a strategy
As with all phases of revolution and evolution, the digital transformation of the hospitality and events space has created an opportunity to improve the way your brand focuses on events.
As Showcase has been a leader in event production around the world, we have watched the industry grow but not change. Companies are still adopting a process of tendering for suppliers for each individual event. Whilst it may tick boxes for business leaders, does it provide optimum value for the business itself?
The standard event rolls from date to date, with very little going on in between for their audience. It's pretty much finish an event, have some downtime, then start planning for the next event.
But then your customer is only seen as a revenue stream.
Where is the engagement in between?
Why are you not building community apps around your events connecting your audience 365 days a year?
Why does experience tend to stop with the event, move to a newsletter (if at all) and then step into sales overdrive?
Does the customer not deserve better?
And how do you plan for this in today's world? The problem is nothing new right? It all comes down to time, resource and ability to deliver.
A strategy would be to roll from hybrid event to virtual event to hybrid event and so on. Planning ahead for 12 or 24 months at a time rather than as individual events, piecemeal would give a greater ability to align all of your audience goals and dramatically improve NPS scores. But to do that you need a partner that can provide customised solutions and proven experience, in short, a company like Showcase.
Working alongside your internal teams from ideas to creation, supporting Event Directors and Operations Directors with consulting and strategy around budgets. Times are changing and the ability to put a real emphasis on the value of your supplier relationships is upon us.
Platforms like Suppeco and Hence will help organisations like yours pivot to longer-term partnerships with events consultants as you will be able to quantify the value of the relationships whilst benchmarking pricing across the industry.
If you are considering the impact of the demand for more online content and shaping your forward strategy around live, hybrid and virtual events, please contact the Showcase team on 08458 336 515 or email: hello@weareshowcase.com.